This summer was filled with trips to beautiful, natural places, and unexpected grief. I lost someone very important to me. I've known her since I was born, and I consider her two grown children (and their families) part of my family. She was an honest and independent person. By being herself, she taught me and many others the glimmers of the strength and serenity one might gain through accepting oneself. She was a librarian, a lover of poetry, of the land–especially central Kentucky, where her family farmhouse still stands in front of a copse of trees–and she had a keen wisdom of where she ended and others began. And she was just.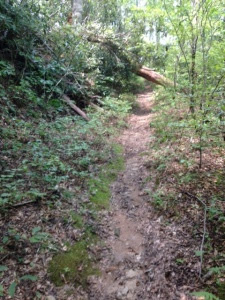 Earlier this month, I spent some time in the woods a few hours south from where she raised her family. I looked into the green upon greens of the forest, and noticed how many different spaces are created by complex light that streams through the canopy created by trees. Something about being in the forest gave me permission to feel sadness, and to become a little more willing to accept sadness as a companion. Sadness spoke to me there, and sadness prompted me to draw and paint. And I thanked sadness.
A colleague of mine once told me that during a lecture I implored my students to shake the trees of their minds. I shook my arms, outstretched above me when I said this (so she says). Then I took a step back, spread my hands and gestured at all of the unseen ideas that lay before us. (Was I pantomiming ideas falling like over-ripe
fruit?) "You were asking us to follow you into the forest of our minds!" she said, and laughed. I laughed too.
Truthfully, I have absolutely no recollection of doing this. I suppose it was just the appropriate school-performance move in the moment. I laughed when she told me this, because it's weird to not remember a thing you've said and done, and because that's just like me, to bring urgency to brainstorming with my students. Shake the ripe fruit off! Goddammit!
I didn't remember that anecdote, and yet it is familiar. This remembering-and-not-remembering makes me think of how strong our denial can be when we are married to a notion of who we should be, and what reality should look like. I was in the forest of creativity with my students in that moment, modeling how they could get at their ripe fruit, and I totally buried it!
How many chambers of our passion and creativity have we built and then locked away, because those instincts didn't fit in an accepted notion of who we are, or what our work should look like? What about when uncomfortable feelings crop up? Have those prompted more padlocks, stiffer walls and rules against feeling and being present? What happens when we accept contradictions and create from instinct instead of the parameters outside of ourselves? I am not sure what the answer is, but I am guessing it's a daily practice, not a one-and-done creation story.
This fall at Studiola opens with Carol Pulitzer, a writer and visual artist in New Orleans, Louisiana. She brings us back to the questions of acceptance and willingness that anchor the creative process. She also brings us back to our roots in New Orleans at a time that feels right and feels just.